A Quintessential Guide To Employer Branding
One day I was having an informal chat with my good old friend Dave who was employed as a Senior Project Manager in a rising e-commerce startup. During the course of my conversation, I came to know that Dave was seeking a job change because he wasn't satisfied with his personal growth in the organization. I quickly asked him, "Do you have any proposals from other companies?" Dave replied, "Yes. A couple. But you know what, although company 'A' has a better job offer than company 'B', I have to go with company 'B'." Out of sheer curiosity, I asked him the reason. Dave replied, "Company 'A' has a poor customer satisfaction level. I came to know the same when I scoured the internet. Their social media accounts has tons of complaints which are yet to be addressed."
Hence, it's evident that although Dave is not part of organization 'A', he already holds a negative perception about the company which is a complete disaster!
Does your organization has what it takes to be an exciting place to work for? If yes, does it have an effective brand management strategy? Let's delve deep to understand what steps an organization should follow to improve its brand perception internally and externally.
What Is Employer Branding?
The term "employer branding" was first coined by Tim Ambler, Senior Fellow of London Business School, and Simon Barrow, chairman of People in Business, in the Journal of Brand Management in December 1996. Employer branding is a means to communicate the Employer Value Proposition covering the organization's values, culture and personality to create a positive perception both internally and externally amongst its existing and future stakeholders.
As per Ambler and Barrow, in much the same way that organizational brands communicate the benefits of using a product or service to potential consumers, employer brands communicate the benefits of employment to potential employees.
Ambler and Barrow thus concluded that the term employer branding can be defined as the package of functional, economic, and psychological benefits provided by employment, and identified with the employing company.
Collins and Stevens states that branding influences the beliefs held by individual consumers about a product's, or service's brand (perception of the name or logo).
In today's increasingly competitive job market, most of the companies understand the importance and benefits of employer branding. We've seen that technology has played a pivotal role in changing the way we communicate and hence, it has become increasingly important for organizations to maintain a healthy employer brand presence in order to source, attract and retain top talents. Global trend indicates that in the last few years spendings on employer branding around the globe has skyrocketed except in a few countries where the overall growth has taken a toll because of the global economic slowdown.
What Are The Key Benefits Of Employer Branding?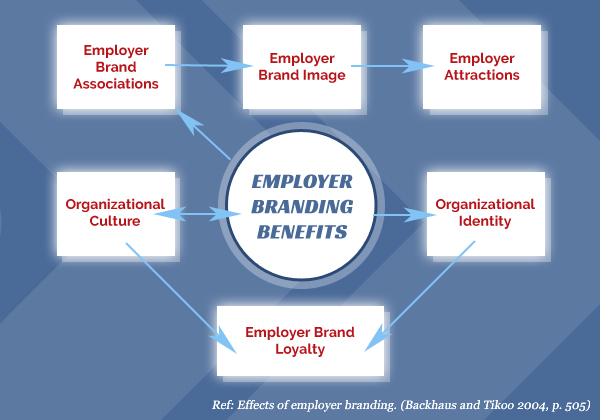 Talent Acquisition: Creating and maintaining an attractive employer brand is paramount for every organization to recruit the best talents. Some of the leading companies like Google, Apple and Facebook does this job neatly and gets featured in 'best companies to work for' list year after year which allows them to hire the best of the best talents from across the globe. As per Randstad's 2016 employer branding insights report, 61% of employees and job seekers prefer to work in organizations with good salary and employee benefits, 52% prefer long term job satisfaction and 49% prefer pleasant working atmosphere. Hence, when chances come, they do not hesitate to apply to these organizations which makes the process of talent acquisition fairly easy, effective and less costly.
Employee Referral Program: Employee referral program is a great means to acquire the best talents. The cost per hire decreases substantially. Study reveals that 46% of employees recruited through employee referral program are likely to stay with the company. Referral programs succeed only when the internal brand image of an organization is high which increases the willingness of existing or former employees to refer talents to that organization.
Talent Retention: The three main factors that influence job change are lack of opportunities for career progression, unsatisfactory salaries and work life balance. A company that takes care of these touch points and maintains a good perception amongst the internal stakeholders, will be more successful in talent retention than the one's which has a moderate to low perception. Thus, companies should be careful in accessing their employee satisfaction level from time to time by talking to a diverse group of professionals (including happy and unhappy groups) instead of assuming or maintaining a biased perception.
Organizational Efficiency: Organizations which has an impressive employer brand internally will increase employee's confidence, motivation, high esteem which in turn will boost the creative thinking ability of the employees, trustworthiness, loyalty, competitiveness, efficiency. All these in turn propels the organizational productivity which ultimately gets reflected in the bottom line.
Employer Brand Equity: When the worth of the brand image of a company increases, it attracts more customers which helps in increasing sales. For example, in 2014 Starbucks, as part of its CSR initiative, partnered with Arizona State University to help its 70% odd workforce who are aspiring students to earn an online bachelor's degree for free! This was a brilliant strategic move since customers also get the 'feel good factor' realizing that their favorite brand is doing something to educate more undergraduates. These kinds of strategic moves also entices the potential investors to show extra interest in the brands.
Important Steps To Creating An Effective Employer Branding Strategy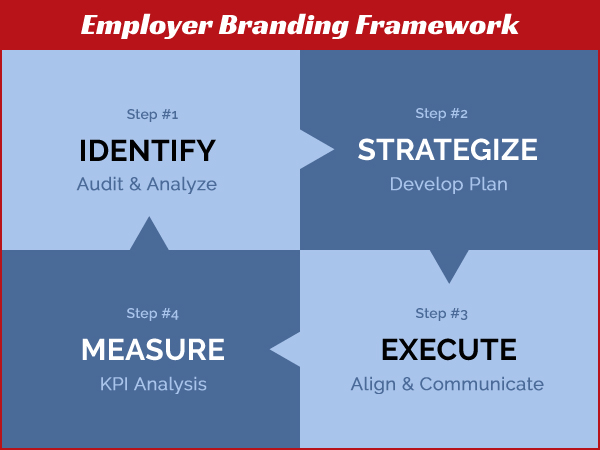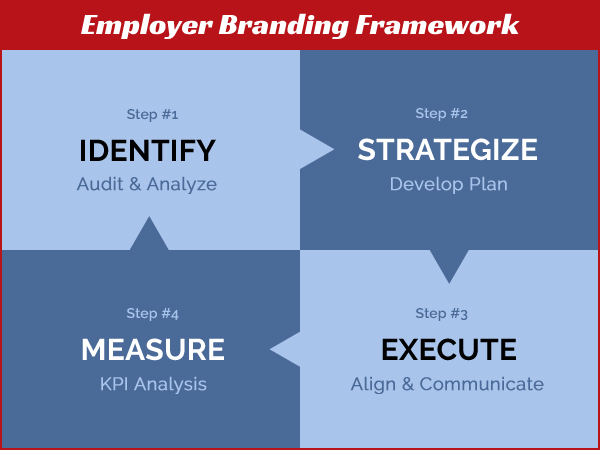 Internal Research: Creating focus groups and asking them what excites them to work for in the organization as well as what they dislike about the organization reveals the employee sentiment and employer brand perception.
External Research: This step involves researching and understanding the expectations of job seekers, what extra benefits might attract the best talents or what the competitors are doing to attract candidates.
Strategizing Employer Value Proposition: Employer Value Proposition (EVP) is the commitment the organization makes to the existing employees or to the job seekers who are seeking employment in the organization. If the proposition is not carrying enough values, job seekers might be less interested to join the organization.
External & Internal Communications: Courtesy of technology, nowadays we have numerous ways to communicate.
External communications can be done by:
Maintaining a company website enriched with figures, facts, mission and vision, leadership team, awards and recognitions
Having profiles at social networking sites such as Facebook, LinkedIn, Twitter
Company salary and benefits review sites such as PayScale, Glassdoor, Salary
Targeted online advertising campaigns.
Internal communication can be achieved by:
Corporate magazines and other materials
Town hall meetings
Intranet and emails
Face to face discussions
Measurement & Analysis: After all the above steps comes the critical step of measuring the success of employer brand which can be done by:
Measuring the retention rate of employees
Employee referral program
Cost per hire
Time to hire
Organizational productivity
Employee satisfaction surveys
Brand loyalty and engagement
For over a decade, we at Pervenio have been helping organizations of all shapes and sizes to align their talent acquisition strategy. Our approach is ROI centric and we ensure that our clients get complete value for money. If you need to streamline your recruitment strategy to attract the best talents to join your organization, please feel free to schedule a consultation.