Behavioral Interviews Demystified: What To Ask & Why?
What Are Behavioral Interviews & Why Recruiters Are Betting On It?
Judging a talent only on the basis of their résumés has become a myth. Recruiters nowadays conduct behavioral interviews (also referred to as STAR format) which comprises of a structured set of questions that help shed light on the candidates' past on-the-job experience to derive insights of their past behavior which can assist in predicting how the candidates may perform in similar situations in the future.
The premise behind behavioral interviews is that the most accurate predictor of future performance is past performance in similar situations.
Benefits of Behavioral Interview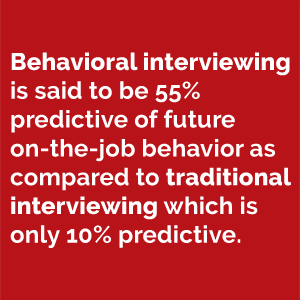 It helps to predict if the candidate CAN deliver the best results by taking a set of actions in a hypothetical situation.
It helps to identify the candidate who cooks up fake stories to impress the interviewer.
It helps to identify a trend in the behavior of the candidate being interviewed.
It creates a framework to measure key professional aspects such as leadership skills, communication skills, problem solving skills, etc. of the candidate.
It's a cost effective technique for employers to predict if the candidate is ideal for the open position.
Behavioral interviewing is said to be 55% predictive of future on-the-job behavior, while traditional interviewing is only 10% predictive. However, some critics are of the opinion that behavioral interview techniques works best only when the situations are perfectly ideal.
54 Behavioral Interview Questions that can bring out the best in a candidate
Let's elaborately discuss below some of the most important behavioral interview questions which may help you access the candidates with precision.
Adaptability & Stress Management
Did you ever find yourself working in a reasonably stressful situation that was physically challenging and hazardous?
How did you cope up with the stress and keep yourself going?
What was the most challenging aspect you encountered as a team member?
Suppose you had a terrible day at work. How will you motivate yourself for the next day to stay focussed and make sure your performance is not affected?
Teamwork
Tell us your latest experience of working as an active team member.
How did you contribute to the team growth?
What were the challenges you encountered and what steps did you take to cope up with them?
How did you cope up with the changing dynamics of a team you're part of?
What positive impact did your past team make to the overall growth of the organization?
Suppose your manager asks you to handle some of the key tasks of a team member who is on a leave. How will you adapt to the situation?
Communication, Documentation & Presentation
Which is your most preferred communication channel in a situation that demands urgency? Why?
Did you ever interact and pacify a dissatisfied client over email? Were you successful? What were the steps you followed?
How effective are your documentation skills? What tools did your past organizations use to document?
Have you ever given a PPT presentation to key stakeholders to sell an idea you nurtured? Did you succeed in selling your idea?
How many slides did your presentation have? How much time did you take for the presentation?
Prioritization & Flexibility
Do you prefer to plan your week beforehand and set goals?
How did you ensure that your goals or objectives are met?
What tools does your last organization use to keep track of complex projects?
How do you keep track and manage time successfully?
How will you encounter a situation where you're overwhelmed by too many urgent tasks?
Suppose you're the server admin of your company. One day you receive a call at midnight and are asked to fix a server which is offline and needs your urgent intervention. What will you do?
Tell us about an instance where you worked on something which falls outside your job description.
Decision Making
What are the key touch points you consider prior to making a decision? Please explain the pointers in detail.
Describe an instance when you had taken a major decision pertaining to a project.
Tell us a situation where you stood up for a decision which was considered unpopular. What made you stand up?
At times of urgency, what steps do you follow to make a major decision? Elaborate with an example.
Give an example of a decision which affected your organization negatively. What possibly went wrong? Do you still regret?
Problem Solving
How effective are your problem solving skills? Give an example of a meaningful action you took to solve a complex problem.
What are the various techniques you take to understand your customer's problems and improve your product or service?
How do you handle user complaints about your product or service?
What corrective actions will you take to rectify a problem in the system which others aren't much bothered about?
What tools do you take help of to analyze and resolve a complex bug?
Give an example where you used your fact finding skills to gather critical information to solve a complex problem once and for all.
Conflict Management
Tell us about a situation when you had serious disagreement with your team mate which affected the team performance. How did you handle the situation and what was the outcome?
Suppose you see a conflict brewing up in your team which is quite unnecessary and needs to be resolved with priority. What steps will you take to address the conflict?
What steps will you take to address and resolve a conflict with an existing unhappy customer to create a win-win situation?
Leadership
Not everyone is a 'born leader'. Do you agree? How do you rate your leadership skills?
Which world leader inspires you and why?
What were your greatest achievements as a leader in your past organizations? What impact did these achievements have in the organizational bottom line?
What leadership techniques you prefer to use in order to influence your team members?
Do you believe in rewarding the top performing talents in order to enhance talent retention?
Give an example where you successfully motivated a group of team members who had completely lost focus?
You're noticing a top performing team member not adhering to certain HR policies. What will you do to ensure that the situation doesn't get out of hand?
How do you differentiate leaders and managers?
Do you believe in leading from the front? Give a practical instance.
Did you ever fail as a leader which made you unpopular? How did you handle such a situation?
Creativity & Innovation
In this era of fierce competition, ability to think 'out of the box' is a necessity. Tell us about an idea suggested by you which made a positive impact to the overall growth of a product or service.
Did you ever come up with a creative problem solving model to address and resolve a complex problem?
What creative techniques did you come up to inspire and motivate your team members?
Sales & Negotiation
How good are your negotiation skills? Elaborate with an example.
If you're asked to sell ice to Eskimos, what will your approach be?
Did you ever sold a product or service to a prospect who once held negative perception? How did you achieve that?
How will you negotiate with a customer who wasn't happy with your product or service and tweeted about it which might negatively affect the reputation of your organization?
What steps will you take to ensure that you maintain a strong bond with your existing or past customers?
Our talent acquisition experts apart from conducting behavioral interview, follow a streamlined process to screen the best talents for our clients. If you are looking for a smart talent search and acquisition solutions, feel free to book a free consultation.